Custom Design, WordPress Development, Logo Design, Branding, Joomla Migration
A Foward-Looking Identity
The NC Rural Center wanted to build its reputation and create a brand and website that reflected its evolving identity.
We worked hand-in-hand with the NC Rural Center team to create a stunning website and brand that better portrays its newfound reputation as a forward-looking organization.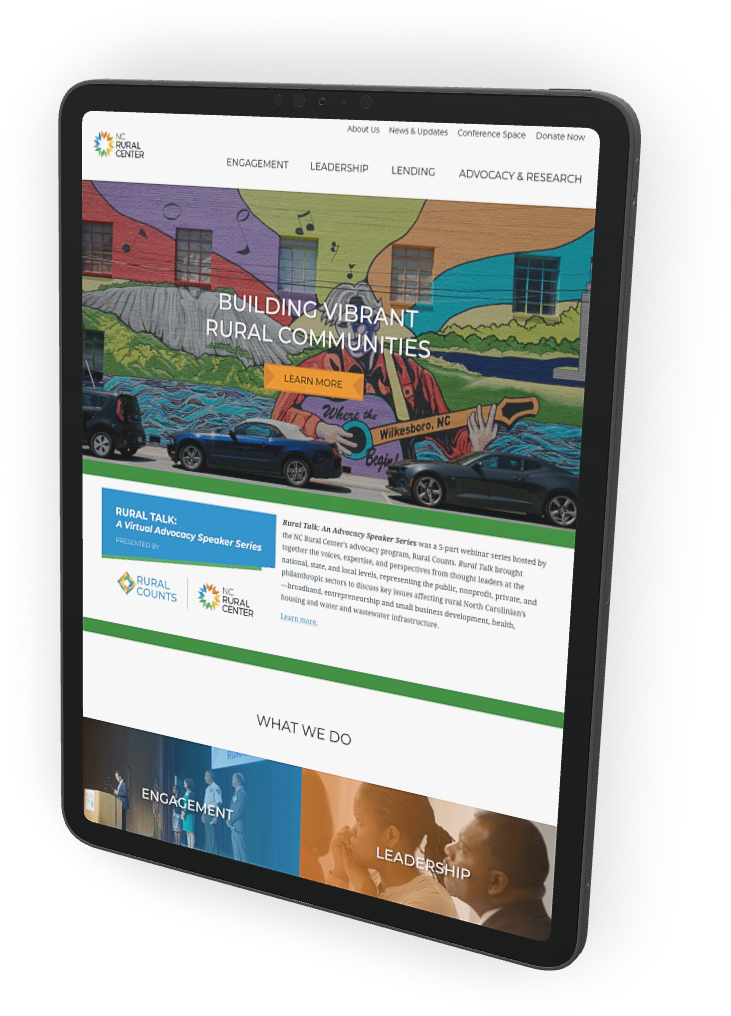 An Evolving Brand
"Building towards the future"
Important Note: this case study highlights marketing services that were provided by Unity Web Agency. We no longer offer marketing services, as we primarily focus on accessible web development and design. 
About NC Rural Center
The NC Rural Center opened its doors in 1987 with the vision of improving the quality of life for all rural North Carolinians. 
Along with being a resource for leadership, entrepreneurship, and research, they provide coaching and capital to rural small businesses — especially veteran, minority, and female-owned businesses and solopreneurs.  
Although the definition of a rural county has shifted in the last three decades, as well as the needs facing rural communities, the mission of the Rural Center has never wavered. 
Today, the NC Rural Center serves all 80 of North Carolina's rural counties (population of 250 or fewer per square mile). 
But with its continued growth, the NC Rural Center has focused on expanding their advocacy work to better serve more small businesses in North Carolina. 
A few highlights include:
Homegrown Leaders

: a regional extension of the Rural Economic Development Institute that works with communities to identify new and emerging leaders. This program also supports leaders in building regional networks of community leaders to promote learning, resource sharing, and collaboration.
Rural Day:

each May brings advocates to Raleigh to engage with elected officials and celebrate what makes rural North Carolina strong. 

Rural Assembly:

rural leaders come together for a two-day event to discuss a specific topic of interest. The Rural Center has been hosting Rural Assembly for 15 years and last year's event brought in nearly 400 rural leaders from across the state. 
And to really listen to the populations the NC Rural Center serves, Patrick Woodie — President of the NC Rural Center — took a "Rural Road Trip" in 2017 and 2018 to visit all 80 counties. 
The listening tour helped shape programs and initiatives for the following years, as it allowed Patrick to truly understand what their communities wanted and needed from them.
Challenges and Objectives
Under Patrick's leadership, and following the 30-year anniversary in 2017, the NC Rural Center had been focused on building its reputation as a forward-looking organization. 
Achieving this goal meant rebranding and recreating the public face of the Center.
When the NC Rural Center wanted to find a web agency to help them think creatively about the new direction for the website and brand, Todd Brantley — Senior Director of Public Affairs — contacted Unity Web Agency.
One of his top priorities since starting at the NC Rural Center was to give the website an overhaul. The website was antiquated and had a lot of functionality issues. The older CMS had been hacked several times and the backend of the website was clunky and difficult to use.
Being familiar with the work Unity had done for other nonprofits, Todd knew they would be a great fit to develop a fresh take for the NC Rural Center's website and brand.
Additionally, the Rural Center was seeking new branding to reflect their more forward-looking approach. 
Todd and his team wanted a fresh and modern logo, but it was important that the new logo also tied back into the history of the Center. The logo needed to preserve the cultural connection to rural places and invoke a larger, often overlooked narrative of optimism about those places.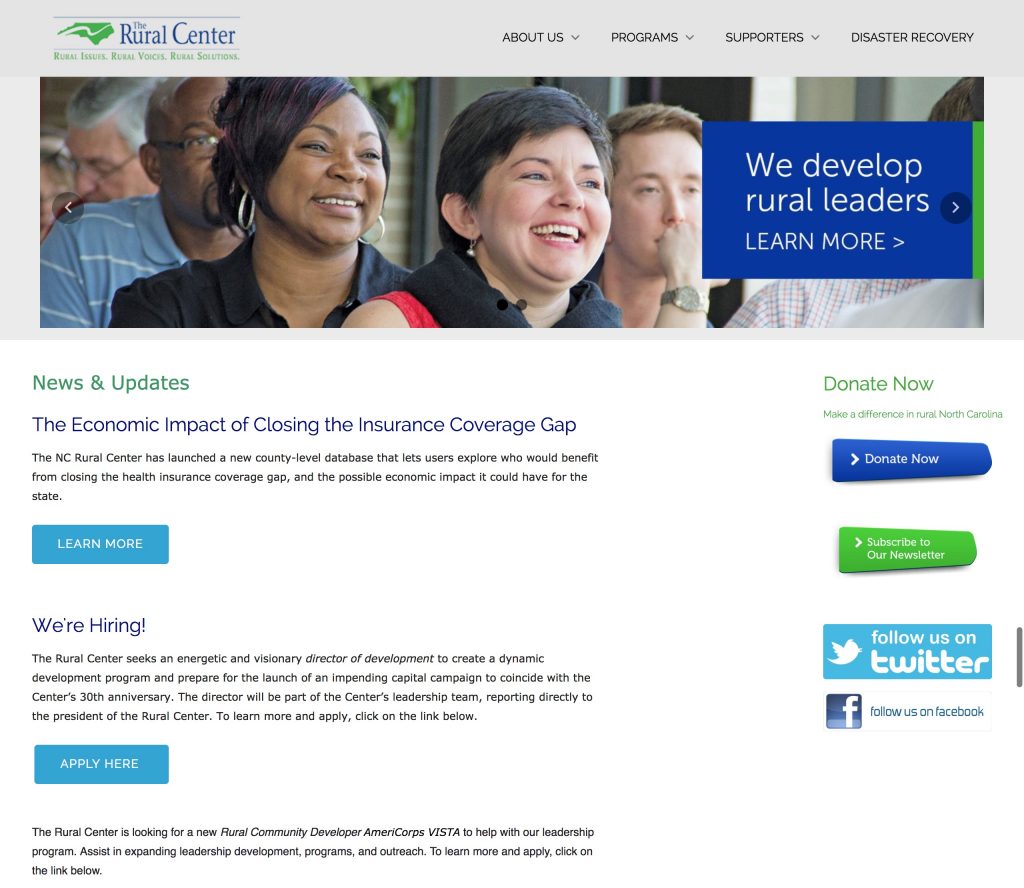 How We Helped
Unity provided digital tools enabling the NC Rural Center to tell their story about North Carolina's resilient rural community and worked with their team to think creatively about a unique branding look and feel.
Through this cohesive approach, we created a new logo with a fresh, artisan-style take on a quilting pattern. The quilt is traditionally a symbol of resilience and an easily identifiable mark of a rural place, and we believed it was a perfect representation of the NC Rural's Center's mission and continued growth.
"Being a small business owner herself, I think Alisa really appreciated our vision," says Todd.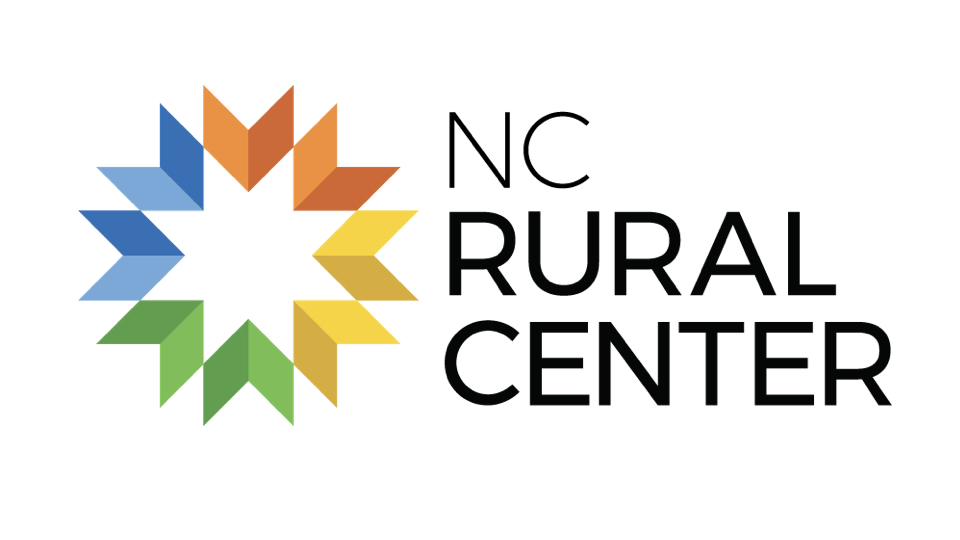 As for the website, we re-designed it to be beautiful, clean, accessible, and functional. We directly addressed many of the issues the old NC Rural Center website dealt with, including many of the functionality issues that restricted its accessibility. 
"Alisa and her team listened," said Todd. 
"I could tell they [understood] what we were saying, and I knew they would tailor the work to exactly what we needed. The new branding speaks directly to the people NC Rural Center seeks to engage and serve."

Todd was especially happy with the customer service he received. 
"Unity's team was there and continued to be there to respond to any issues promptly. Alisa and the whole team know how to take care of their clients," said Todd.
With new branding in place and a beautiful, more accessible website now available, the NC Rural Center was able to continue to learn about, engage with, and celebrate rural North Carolina with confidence. 
Since our initial work with them, the NC Rural Center has also reached out to us on more work regarding CornerSquare and Thread Capital, which are subsidiaries of the Center. 
Check out those case studies to learn more on how we continued pushing the NC Rural Center forward and established a strong web presence for each business!
"Unity Web Agency is the best! We have used them for rebranding, creating, and designing for multiple nonprofits and programs. Unity has helped us focus on conveying our message through web design. The process is always so smooth and they truly take the time to hear what we are looking for in a website. It's easy to get bogged down with all the details, but they somehow take all those small details and make it into a beautiful full website."
Looking to improve your website's functionality and accessibility, while capturing your brand's mission, vision, and goals? 
Unity Web Agency specializes in custom-designed websites that can help capture your business' voice, all while adhering to the latest web accessibility standards. 
And when you schedule a consultation with our team, we'll provide you with a custom quote with different packages that can better accommodate your needs and budget!