NC Botanical Garden
Online Store
WordPress Development, E-Commerce, WCAG, TouchNet Integration
Beautiful, Sustainable, and Profitable
Located at the beautiful NC Botanical Gardens at UNC-Chapel Hill, The Burke and Judy Davis Garden Shop needed to find a way to showcase and sell its products, despite the hardship of COVID-19 closing its doors for in-person visits.
We helped them create an online store that was integrated with UNC's required payment processor, TouchNet, and allowed their audience to continue purchasing from the shop. Within just two months after their site launch, they were able to recoup the costs of its site, and the shop continues to offer products and memorabilia of the Botanical Gardens online.
Visit the NC Botanical Gardens online store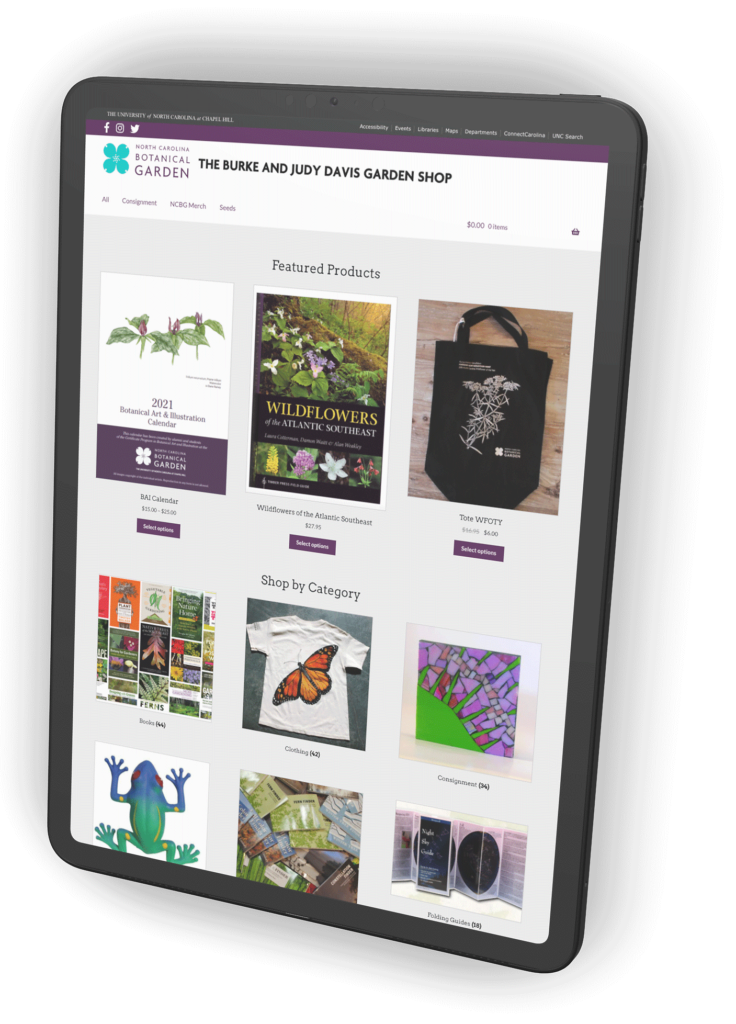 Surviving and Thriving Amid Adversity
"A Seamless Integration"
About North Carolina Botanical Garden
With history dating back as far as the early 1900's, the North Carolina Botanical Garden (NCBG) has been an integral part of the botanical legacy at the University of North Carolina at Chapel Hill for over a century. 
The Display Gardens have been a staple in the Triangle since the "official" opening of the Piedmont Nature Trails to the public in April 1966. With over 1,200 acres attracting thousands of visitors each year, the Garden is executing its mission:
To inspire understanding, appreciation, and conversation of plants and to advance a sustainable relationship between people and nature with overwhelming success.
Within the James and Delight Allen Education Center is the Burke and Judy Davis Garden Shop, which is home to a large variety of plants and seeds native to the Southeastern United States, educational books and toys, unique consignment items made by local and national artisans, gardening gear, and more for purchase. 
The Shop not only serves as a source of income for the Garden but is also a favorite place for visitors to browse, purchase gifts and learn about native plants. Many customers return to the Garden again and again just to peruse and purchase from the numerous, unique offerings offered by the garden shop. 
Challenges and Objectives
Like many places of business, the Garden Shop was forced to close down during the COVID-19 pandemic. Despite the understanding of their customers, many of them asked about the ability to shop online. 
The Garden knew it was missing an important audience that would readily buy their products online, and this led Garden leadership to ask a critical question that many businesses faced in 2020: 

"How can we continue business?" 
For the Garden, "business" came in the form of their garden shop and how they could integrate eCommerce properly.  The Garden had wanted an online store for over two years and the pandemic shone a new light on this issue. They were looking for a way to establish, grow, and scale their online presence and reach a greater spectrum of customers that loved the Burke and Judy Davis Garden Shop.  
Prior to the pandemic, the Garden was able to mitigate potential losses that came with not having an online shop due to strong and consistent in-person shopping. But with COVID-19 forcing many people home and changing operations worldwide, they were left in a difficult position and the urgency to have an online presence became paramount.
How We Helped
When we met with NCBG leadership, they had been trying to implement an online shop with their point-of-sale (POS) system and a payment portal approved by UNC. The project encountered numerous roadblocks and eventually, those challenges led them to shelve the project entirely preventing them from discovering their true online sales potential. 
With COVID-19 continuing to derail in-person sales and the growing need and desire for consumers to purchase online, the Garden felt it was necessary to set up the shop, do it right, and abide by UNC's strict security measures.
We took the time to understand not only the platforms and systems the garden shop relied on but also the goals they had for the shop. A big goal was regaining the estimated revenue loss that came with closing the store to in-person shopping, which was the primary source of income for the garden shop. 
Using this information, we helped create an accessible online store that not only allowed customers to shop through the store with ease but was seamlessly integrated with UNC's payment processing system — TouchNet. 
The integration was a huge success for the botanical garden team, as they had spent years trying to integrate this system into the online store, but to no avail. 
Results
The results were amazing
With an online store that was easy to navigate and complete purchases, fans of The Burke and Judy Davis Garden Shop flooded back online and new customers were welcomed.
In fact, the investment in the newly designed online store went so well that the garden shop recouped a portion of the money it had initially invested in their website!
And even with more people returning outside for in-person shopping, the online store continues to see considerable website traffic and sales have allowed the garden shop to tap into an audience that loves them from outside the Triangle and NC. 
"Unity took a very complex set of needs and wove together our current point of sale system with an eCommerce plugin and connected them both to UNC's payment portal. This was something we had been trying to do for years. But we ran into roadblocks so frequently that we had shelved this project many times. Unity put all the pieces together for us and provided great customer service from beginning to end."
If your website has an online store, it's critical that the experience they have with it is easy and simple. 
Regardless of their ability. 
If you're ready to level up your online store, make sure to schedule a consultation with our team and see how we can reinvigorate your audience, business, and sales.