Custom Design, WordPress Development, WCAG
Cleaner Design, Better Search
EdNC works to expand educational opportunities for children in North Carolina, and they needed to revamp their website to help their audience find pertinent resources more quickly and make the process of writing, editing, and publishing articles easier for their team of journalists.
We helped create a dynamic website that better organized their content and leveraged WordPress's new block editor (Gutenberg) for a more streamlined content management experience.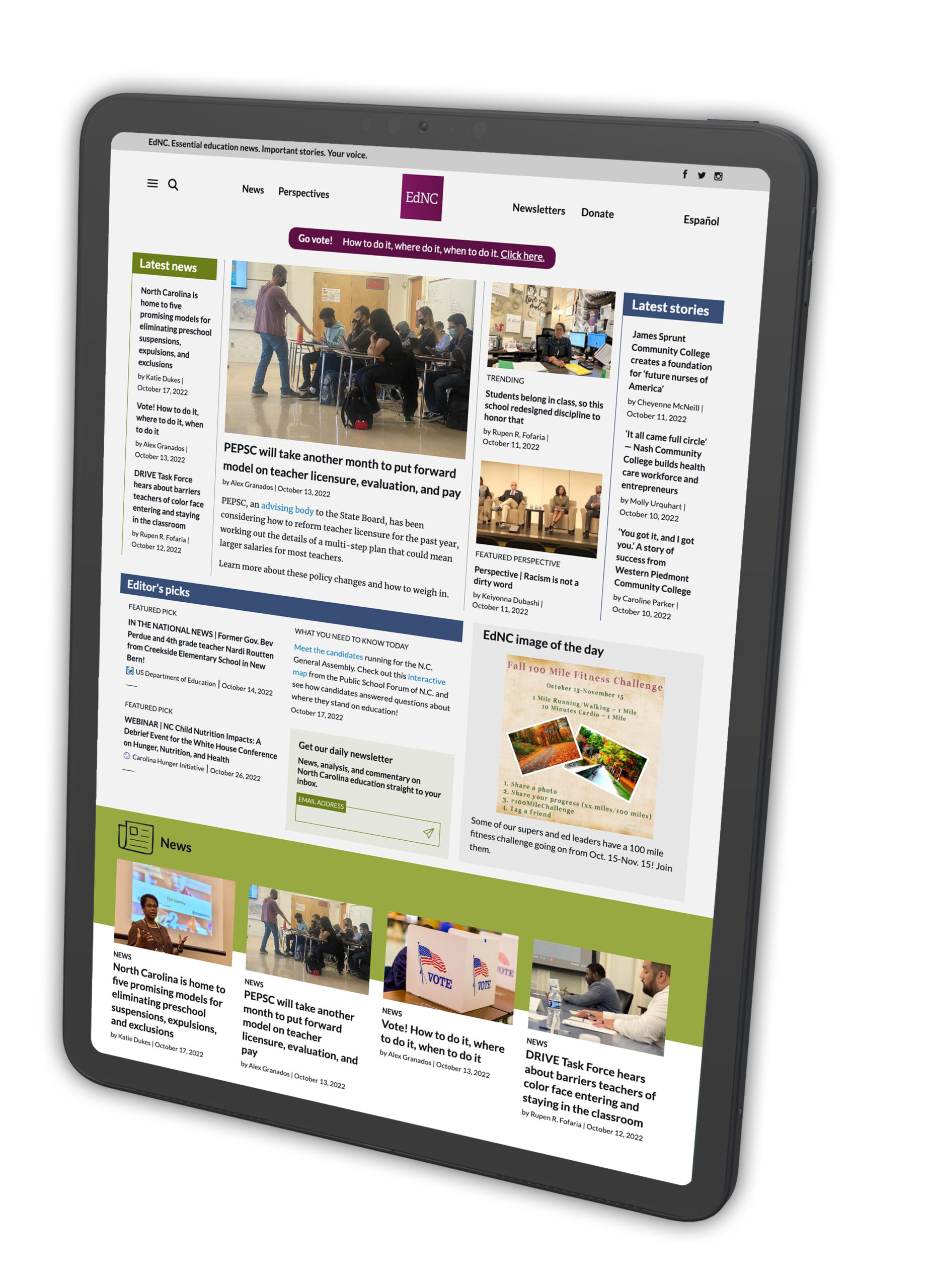 A Streamlined Content Management Experience:
"Clean and Dynamic"
Located in Raleigh, North Carolina, EdNC is dedicated to expanding educational opportunities for all students in North Carolina.
EdNC is one of the state's most trusted resources for educational news, data, and information, and thousands of readers rely on them to provide updates on education in North Carolina.
Residents and policymakers across North Carolina visit the EdNC website to better educate themselves on major trends, educational challenges, and nonpartisan data — all while providing helpful resources for people looking to improve the education of their children. 
But along with their quality of work, EdNC also places great emphasis on transparency. As a trusted media outlet, EdNC understands that transparency is key, and they adopt this concept through their editing approach.
Anytime a change is made on a posted EdNC article, the editor will actually include a "Behind The Story" section underneath the article that documents not just the specific change, but when and why the change was made as well. 
EdNC is one of the few media outlets that not only implements this accountability system, but stays consistent with it as well, and it's part of why they're continually viewed as one of the trusted educational news outlets in the state.
Challenges and Objectives
Although EdNC has a strong relationship and reputation with the North Carolina community, users and employees did express a few challenges with their current website: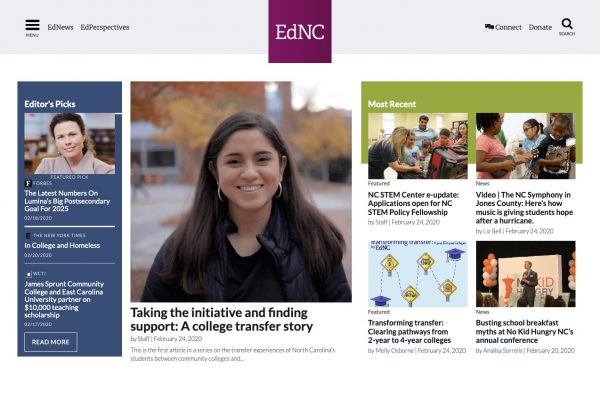 It was difficult to find information pertinent to the user, as visitors spent a considerable amount of time combing through pages to find the right information. This was especially true for older articles.
The process of writing, editing, and publishing articles on the current site was difficult and tedious for EdNC's team of journalists, which impacted turnaround time.
At its current state, EdNC was a helpful but difficult site to use, and the EdNC team knew they could get more out of the site.
How We Helped
When EdNC came to Unity Web Agency for our help, we were excited to assist one of the most essential media outlets for North Carolina's educational news. 
Technically, this was the second time our team was involved in the EdNC website build. Alisa originally designed and developed the platform in 2014 when she was the CTO of EdNC. For the past few years, a variety of developers were brought in to add features, but the website was starting to show its age and needed an overhaul.

We moved forward with a kick-off meeting to better understand EdNC's needs and their vision for the future of their website. 
This kick-off meeting gave us a stronger understanding of:
EdNC's key demographics, and why they are so important to the organization.

Its categorization of content, which had ballooned to a staggering 235 different categories.

The number of pages housed on the site, which had grown to 145 pages. This is unsurprising for a media site that emphasizes transparency and visibility with its older articles.

EdNC's expectations behind wanting a cleaner and sensible navigation that made finding pertinent information and resources easier for visitors.
After this meeting, our team got together to discuss how we could blend EdNC's desire for a cleaner navigation experience and simpler content categorization system. 
Through this ideation process, we were able to propose the following ideas to the team:
Reducing the number of content categories from 235 to 15, which allows certain pieces of content to overlap among multiple categories.

Consolidating the 145 current pages on the site into five page types and removing unnecessary content. 

Creating a clear and easy-to-use navigation menu at the top of the site that provided clear direction as to what page went where.

Developing an efficient and eye-catching layout that highlights today's pressing news, the editor's picks, and showcasing recently published articles.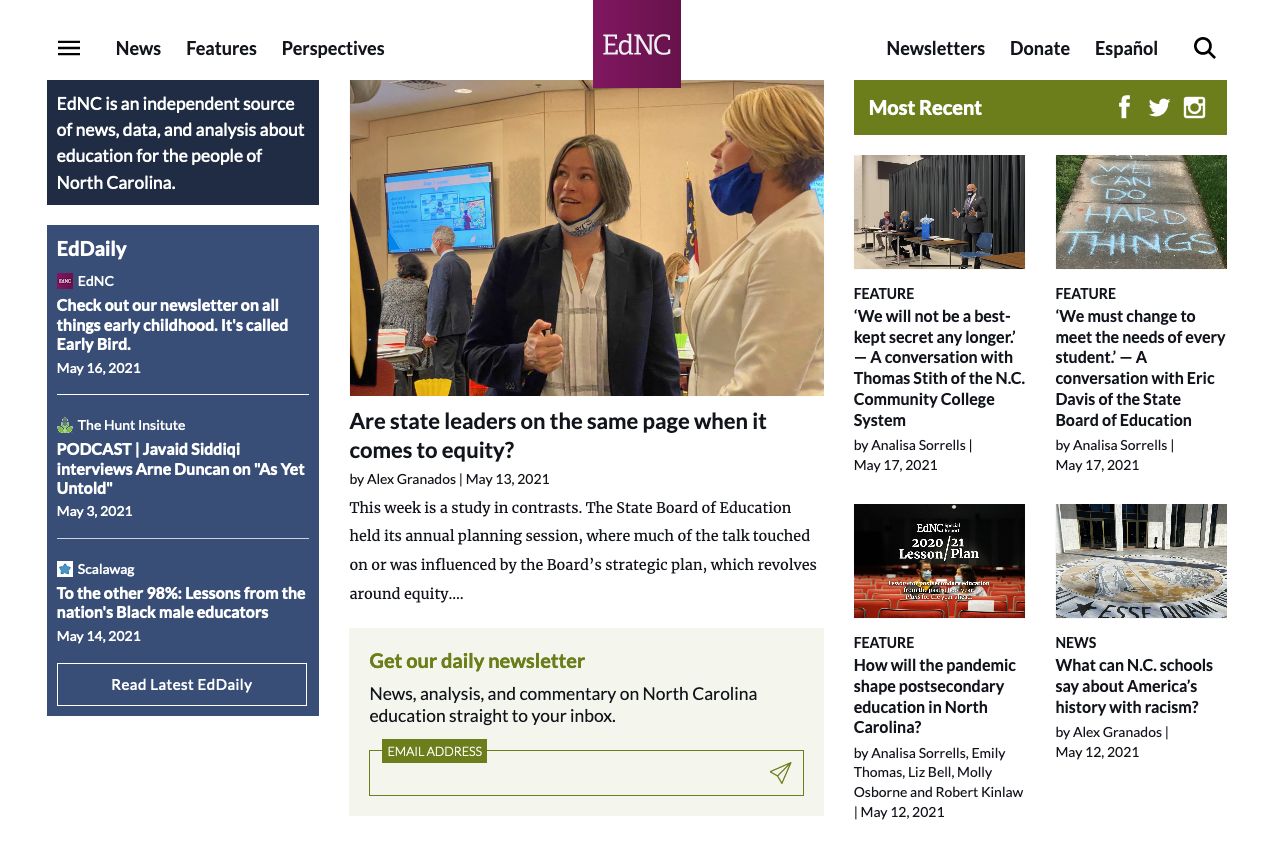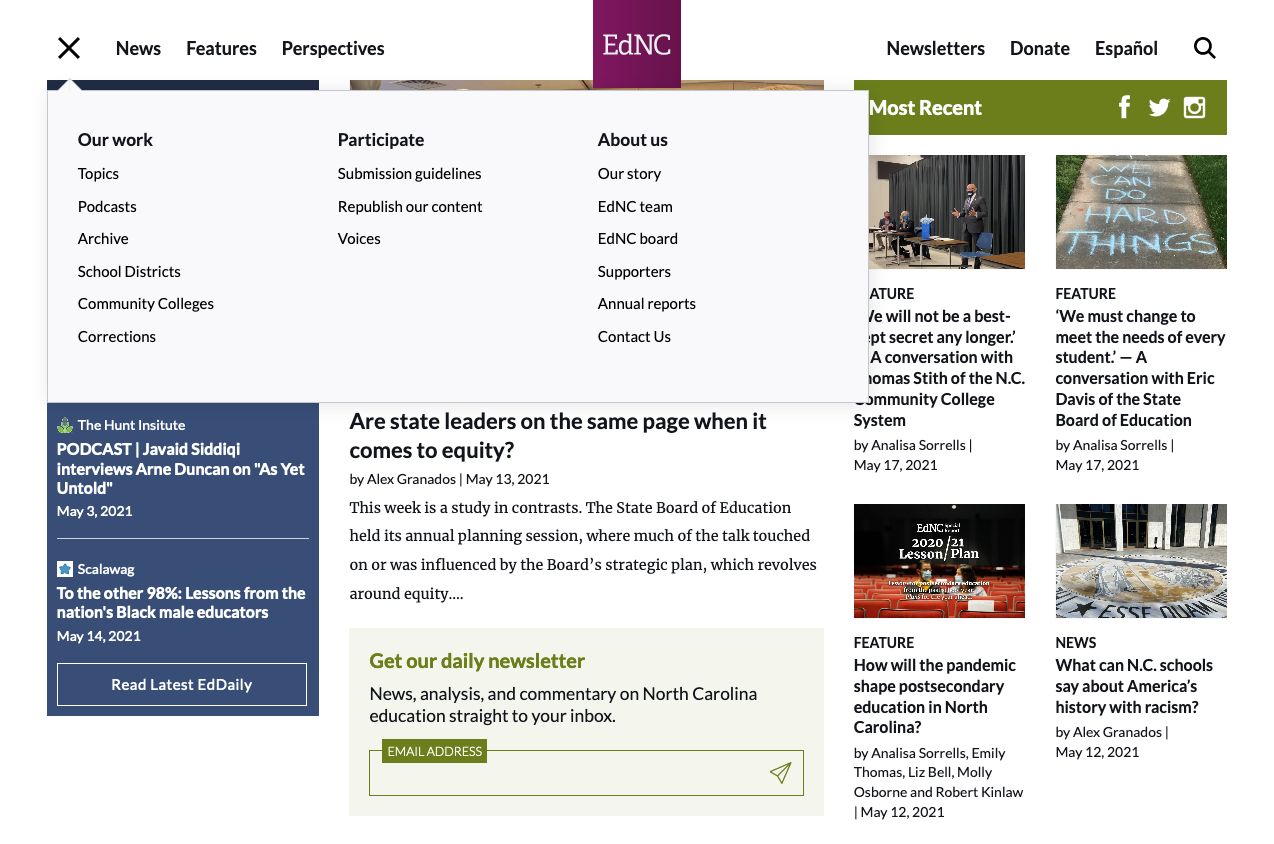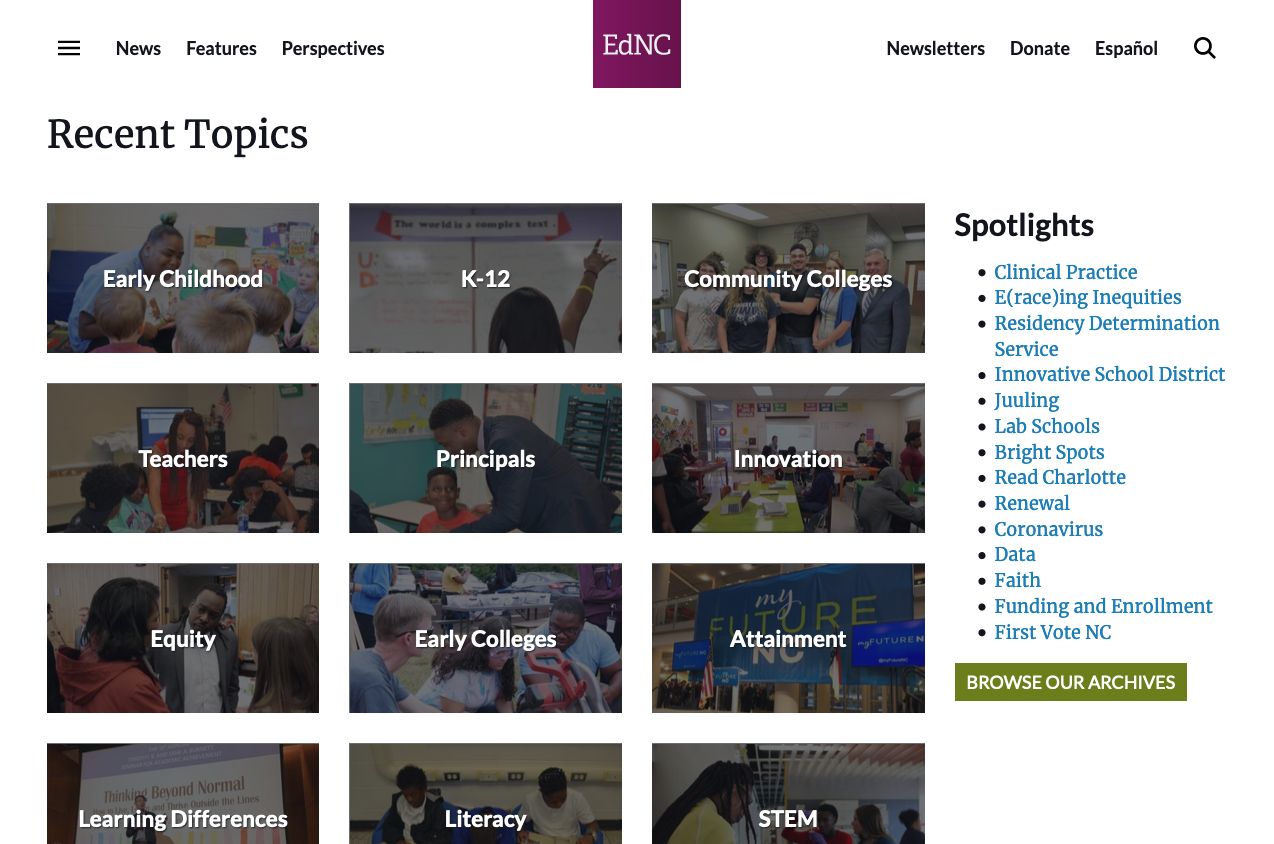 The Results
The level of complexity behind EdNC's website was only a testament to the quality of work they provide to their users, and it was a challenge that the Unity team was excited to take on.
By taking the time to comb through and analyze the current structure and content on the EdNC website, we were able to develop a website that:
Captures the current stories developed by EdNC, as well as highlighting articles that the EdNC team found important
Makes it easier for EdNC journalists to add, remove, and edit articles on the website.
Allows visitors to find past articles and resources with ease and efficiency.
"Alisa built our website and [her team] has iterated it time and time again to make sure our news platform is industry-leading.

She builds platforms that work for people — the people who use them and the people who need the information on them.

She is the most creative web developer I have ever met, the rare leader who can combine vision with elegant code to create impact for those she works with and believes in."
Does your website need organizational help like EdNC?

Are you looking to better improve site navigation and content categorization?
Let Unity Web Agency help streamline your website and its content, all while making sure your site is fully accessible for anyone, regardless of ability.