Some people dream up an idea or a product and then build a brilliant business, but that isn't how it went for me.
After many years of working for companies that weren't aligned with my values, I wanted to drive my own future and shape my career. In many ways, Unity was (and still is) values-first. I dreamed of a culture of inclusion, a list of core values, a keen sense of what I could offer my customers, and what the web development space was desperately needing. Every day, I'm astounded and grateful for how much we've grown in the last seven years.
Often, when companies talk about growth, they're talking about numbers. While most changes in a company are related to the bottom line in one way or another, I've been thinking about our culture of radical transparency and at the same time, thinking outside the box with growth.
In our personal lives, our growth isn't always connected to how much we're making or how many friends we have (though it can be). I wanted to talk about the ways we've been lucky enough to grow over the last seven years, and not just in terms of revenue.
So let's get real about the highs and lows of the first seven years of this business: how I went from a solopreneur to running a small business, how we arrived at our values, and how our product and our relationship with clients have evolved.
Beginnings
After a series of jobs where I experienced the too-common issues that come with being a neurodivergent woman in technology, I was driven to create the sort of company I felt we needed in the world. We started working with Maria Kingery at 360 Impact and using EOS in 2018. She helped us in many ways we needed by teaching me and my team the essential components of business: how to organize a company, set goals, and run efficiently.
I started the company from my own core values, and when we started working with Maria we came together as a team to define a set we could all get behind. And we revisit our core values every year. For example, one year we decided that "foster harmony" and "lead with joy" could be simplified to "lead with love." It's been incredible how a commitment to these values has attracted a team that's embracing and open.
I also started Unity with my own money, so I had to ensure that what I offered was something I could do myself. My guiding question in the beginning: What could bring together my expertise in web development, my master's degree in Library Science, my bachelor's degree in Psychology, and my experience as chief technology officer (CTO) of a non-profit — with absolutely no experience running a company? I started off freelancing until I made enough money to start hiring contractors who could supplement my skills. Yet, the transition from solopreneur to having a team is one of the trickiest for entrepreneurs.
Hiring and Growth, The Chicken and the Egg
There's a classic chicken-and-the-egg problem in building a small business. One of the biggest challenges to growth, at any scale, is when you have too much work for one person, but not enough money to pay two people. What do you do? If you had more capacity, you could take on more work. But is there enough work and cash flow to bring on more people?
These days, we have a savings account, we have metrics that help us with financial forecasting, and a bit of history behind us. But at the beginning, there are no easy answers.
One Big Helper? The Energy Matrix
One of the most useful tools we use time and again is the Energy Matrix, introduced to us by Maria. There are four quadrants: The x-axis indicates whether you're stronger or weaker on a particular task, and the y-axis indicates whether you like or dislike a particular task. If there's a task that you're strong at and love, that's where you're in flow. If you're strong at it and dislike, that's where you suck it up. If you're weak at it and like it, that's your growth area. If you're weak at it and hate it, that's your "get the f*ck out" (GTFO) area.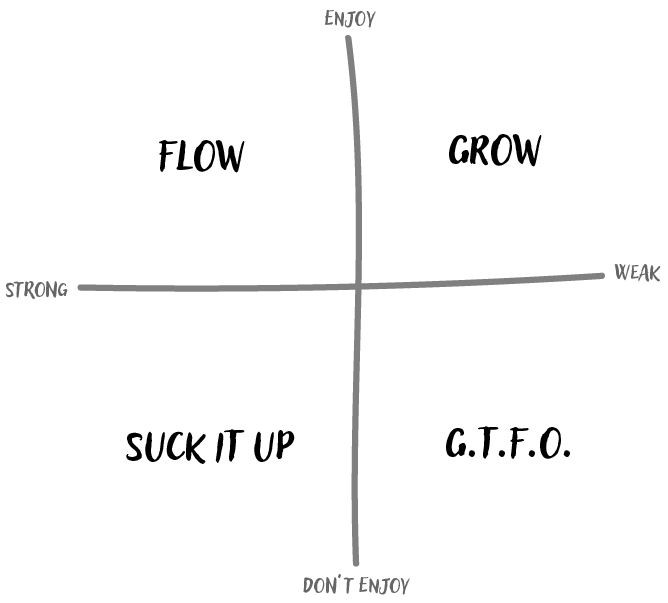 In short, I made sure that I hired first in my GTFO areas. This continues to work at scale with our business today, and I can't recommend the energy matrix enough for making sure you're playing to everyone's strengths. We update the energy matrix as a team at least once a year.
Sales, the Economy, and Other Roller Coasters
At the heart of a company — especially one like ours — is service. The way that our sales, client relationships, and product have transformed over the years reflects changes in talent, interest, skills, the economy, and of course, client needs.
As is the case for anyone who has run a business, sales is a roller coaster. Given that we opened our proverbial doors in 2016, we have a few years in the rear-view mirror to reflect on what the journey has been like. At first, I was only paying myself since it was a one-woman show. But once we started hiring, I forewent a salary for a while—until, of course, we all started making the same amount of money.
Web development, interestingly, tends to lag behind other areas of the economy. While 2019 was a more challenging year, 2020 was an amazing year for us financially which was in part due to the pandemic. Clients who did without websites in the past could no longer do that; for example, the garden shop at the North Carolina Botanical Garden suddenly needed to sell t-shirts and plant seeds online.
Sales in 2021 were lower, and then, 2022 was our best year yet. At the same time, with murmurs about inflation and a recession, we braced ourselves and created an emergency rainy-day fund. And thank goodness we did.
Because sales have been down this year (as has been the story I've heard from many other business owners), we've been able to focus more on professional development and continuing to improve our back-of-house processes. We have team members getting certified with the International Association of Accessibility Professionals, we're redesigning our own website, and laying an even more solid foundation for the future.
Staying Flexible
Flexibility has been key when dealing with sales, and it's also been crucial for developing our services. We're the kind of company with slow seasons and busy seasons — the end of the year is consistently busy for us, while Q2 tends to be light when it comes to leads. Learning how to hone our skills and improve our product during the slow seasons is exactly what makes the busy seasons, new clients, and fresh products possible.
Service Evolution
While we focus primarily on designing accessible websites now, we've pivoted with the ebbs and flows of the economy and sales. Back in the day, we made custom-coded MailChimp newsletter templates and offered ready-made designs on HubSpot. We even did branding work for the NC Rural Center and The Pocket PhD.
By 2020, when we rebranded from Unity Digital Agency to Unity Web Agency, we reassessed our strategy. What are our "flow" areas, what's financially feasible to sell, and when were we making money or losing money? After some difficult conversations with existing clients who still wanted our branding or newsletter work, we went full force into accessible website design, support, and maintenance.
In the last few years, one challenge we've bumped up against is that many clients no longer have the budget for a full website redesign. So, we've started selling smaller things. SEO and accessibility audits, Google Analytics work, and more. Part of having a thriving boutique business is being attuned to the market, to our existing clients, and to our dream clients. What can we sell? Who can we serve? How do we lead with love and create with curiosity in our culture and in our services?
Don't Go At It Alone: Partnerships
Having a successful business requires knowing when to ask for help and when to find an expert — especially for those of us who started out as solopreneurs, it's so easy to think you have to do it all yourself. One of the most liberating realizations in business (and life!) is that you don't need to do it all alone. Unlearning this has meant that we've been able to honestly look at what the company needs. When we need expertise or guidance beyond the capacities of our company—or even if we need someone outside the company to reflect back on what's happening—we find experts who can help.
As we dropped certain services in past years, we've moved towards leveraging our partnerships and fellow experts. Today, we work with Bark Media, Noel & Co., and other B Corp friends who offer our clients services for branding, content marketing, and business strategy.
While focusing on internal growth and skill-building this year, we hired a sales coach out of our savings account. We're working with the wonderful Allison Davis who is helping us with everything in our business development pipeline. We're working on setting new sales goals, assessing our metrics on leads and revenue streams, and learning new strategies for improving our reach.
When we lost our marketing director, we hired The Pocket PhD who we've relied on for help over the last few months to have more consistency with marketing and thought leadership.
Growing in the fullest sense means investing in yourself, and I'm proud that we're in a place where we're able to do this.
Where We're Going
Through seven years of trial-and-error, support, design, flexibility, and investing in ourselves, we've been able to grow and nourish a company the web development world has desperately needed — all while providing our team with a culture that prioritizes work-life balance, wellness, and community care. I couldn't be more grateful for our team, our partnerships, and our community who make our work possible. We have big dreams for the next seven years:
We're strategizing to find more clients and grow our talent — and we want to make sure everyone is getting raises and more benefits to feel fully appreciated.
We're continuing to build and maintain a culture that reflects our core values inside and out.
We're providing an unparalleled experience with web development. We're ensuring that people of every ability level can find out about the amazing things our clients have to offer by building beautiful, functional, and accessible websites.
We're streamlining the client journey by incorporating processes to check in with our clients every step of the way.
We're keeping our finger on the pulse of the needs of our clients, the needs of disabled folks, and the ever-quickening evolution of the internet and AI to make sure we're offering top-tier services.
We're becoming known as experts in accessibility. Through education, thought leadership, and leading by example, we want to show how important and possible it is to create a web design that is aesthetically pleasing, brand-aligned, and available to all.
Thank you to everyone who has made the last seven years possible. You helped us prove that it's possible to create a business that is equitable, inclusive, transparent, and serves the greater good. Here's to the next seven!