Read time: 4 minutes
---
Two weeks ago, Unity Web Agency CEO Alisa Herr was one of three business leaders to be recognized for her work, earning the North Carolina Business Council's (NCBC) 2020 Leadership in Business Sustainability Award. 
The NCBC was established to help create a more equitable economy and advocate policies that benefit all mission-driven businesses. The organization boasts an impressive list of members which includes Big Path Capital, Fullsteam Brewery, Southern Energy Management, and TS Designs.
As for the award, it was created to recognize executives that "see beyond the short-term, market-driven actions and position their business for success over the long term" and had a list of criteria these people needed to fall within:
Contribute to the environmental health of North Carolina through sustainable practices and products.

Strive to be a good citizen through fair and beneficial business practices.

Contribute to the overall economic health of North Carolina.

Use its voice and influence to advance equitable economic policies that benefit all North Carolina businesses.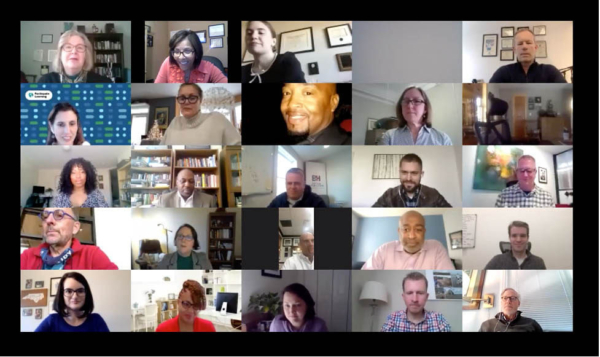 ---
Since starting Unity Web Agency (then Unity Digital Agency) in 2016, Alisa has worked diligently to create a business that embodied each of those values. But it wasn't all that easy as she began her journey.
Back when Unity started, Alisa's big goal was to just get things going. She'll be the first one to tell you about the risk she took starting the agency, as she previously served as CTO for a notable statewide nonprofit. But she was motivated to make Unity work, and her professional reputation as a clever and compassionate developer made it a little bit easier to earn the trust of clients. 
"I had a great position [at the nonprofit], so to leave it and start Unity was pretty nerve-wracking," said Herr. "Fortunately, I had developed a lot of fantastic relationships, so building the body of work and portfolio needed to earn client trust was a little easier than what other startups have to deal with." 
It wasn't until 2018, when the agency was a little more established, where the vision of what Unity is today started to take form. Alisa and her team formally defined the agency's mission and started to become a champion of beautiful and fully accessible websites. In response to this change, the agency also earned a B Corporation certification and went through a clever rebranding, which helped showcase Unity's work within sustainability and accessibility to a larger audience. 
Now, two years since the mission alignment and four years after starting her journey, Alisa is appreciative of the recognition she's received and her growing role as a leader within the web accessibility and NC B-Corps communities. 
"It's wild to see how things have changed over the years," said Herr. "I've wanted to use my work as a force for good. To have Unity become a physical embodiment of that work and for it to be recognized by the NCBC is great to see. It's humbling for sure."
While the award left Herr humbled and surprised, some within her circle were glad to see her get the recognition she deserved.
"I've had the pleasure of knowing and working with Alisa for years, [and] I'm thrilled to see her receive this well-deserved recognition," said Christina Noel, CEO of Noel & Co. "She has always been committed to building a company that makes our local community stronger and she is an incredible advocate for the importance of web accessibility." 
While Herr was understandably excited for the recognition, she views the award as a stepping stone for her professional career and what she wants to accomplish with Unity.
"For me, receiving this award is big because it tells me what I'm doing, at this moment, is working, but I don't want to leave it at this," said Herr. "I want Unity to not only be a leader within web accessibility and B Corporations, but I also want it to be a damn good place to work. We're working on things to accomplish that, and I'm excited about what we have planned in the coming months."
But even with that statement, Herr didn't let the moment pass by, as she dedicated some time to celebrate.
"My husband and I definitely broke out some bubbly that night."