Read time: 8 minutes
---
Unity Web Agency turned four years old on August 11!
Looking back on the previous 12 months brings me so much joy. For the first time since I founded the company in 2016, we have remained profitable. Not only that, but we've also exceeded our sales and revenue goals for the past two quarters!
As a Certified B Corporation, we recognize that profit isn't everything, but we also live by the advice: "no money = no mission." Our mission at Unity Web Agency is to make the internet radically inclusive, one website at a time. That's what drives us to get out of bed in the morning and show up to work as our best selves.
Because of our newfound financial stability, we're able to be more purposeful about our work and begin giving back in the ways I dreamed of when starting Unity. I am excited about the opportunity to really use this business as a force for good.
Although we've faced many challenges this year, we have persevered and are thrilled to announce our accomplishments in each impact area:
Customers
Over the past year, we have served 42 customers. Out of those, 54.8 percent are nonprofits and 21.4 percent are woman- or minority-owned businesses.
website projects launched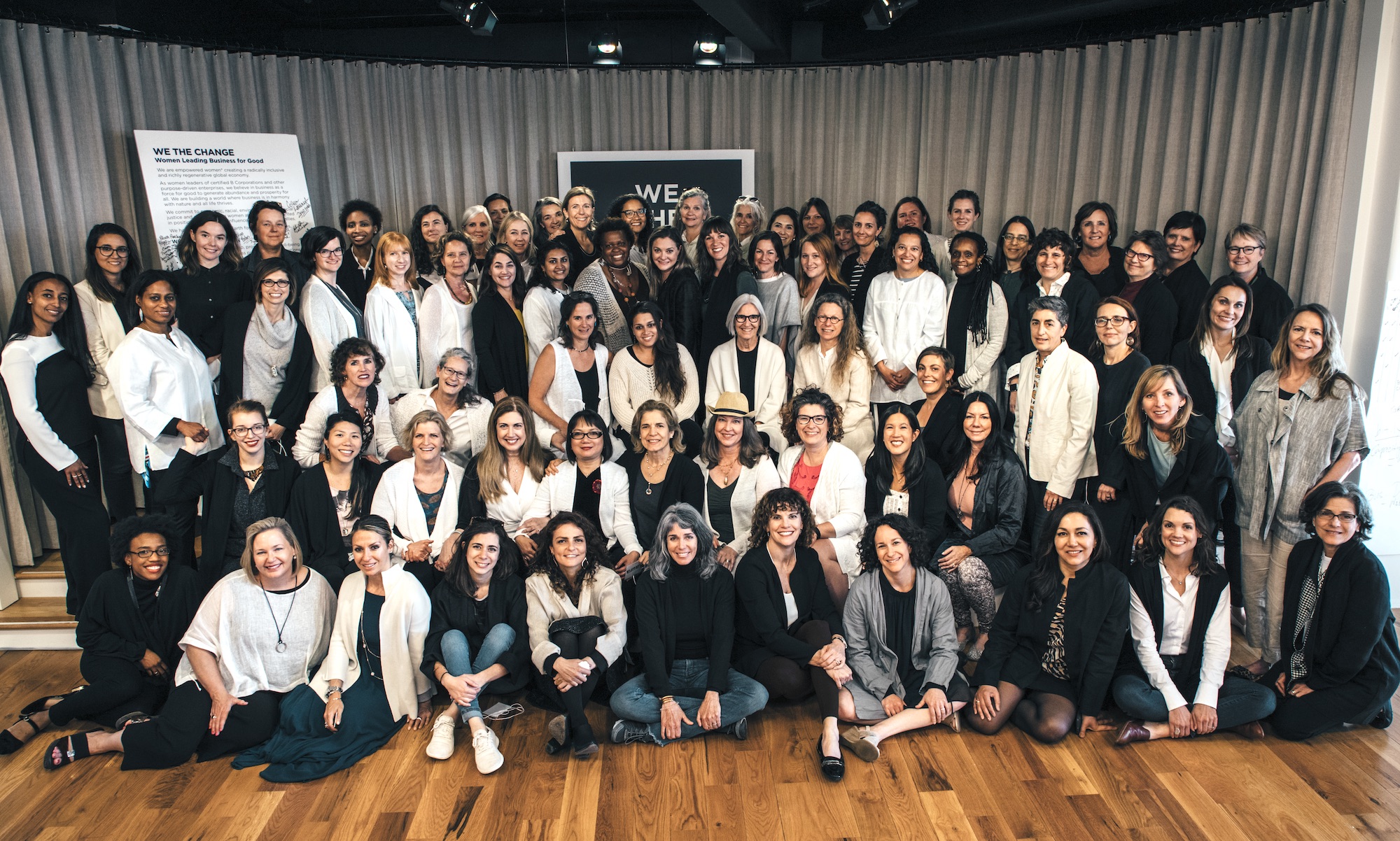 WeTheChange
Last May, Alisa attended the WeTheChange gathering along with 100 other women CEOs of Certified B Corporations and other purpose driven organizations. Those who gathered became founding signatories of the WeTheChange declaration, committing to economic, racial, environmental, and social justice and a world where women are equally represented in positions of power and influence.
This year, Unity Web Agency gave back in collaboration with fellow women-owned B Corps Phil and Mission Partners to create a website for WeTheChange.
RTP DEI Collective
In July of 2019, Unity Web Agency joined forces with the Research Triangle Foundation and 18 other companies and organizations within the Research Triangle Park (RTP) to create the RTP DEI Collective. RTP, and the 300 companies and organizations located here, have great impact in both the local and global business community. The companies in the RTP DEI Collective believe it is our responsibility to enhance that impact by collaborating on diversity, equity, and inclusion (DEI).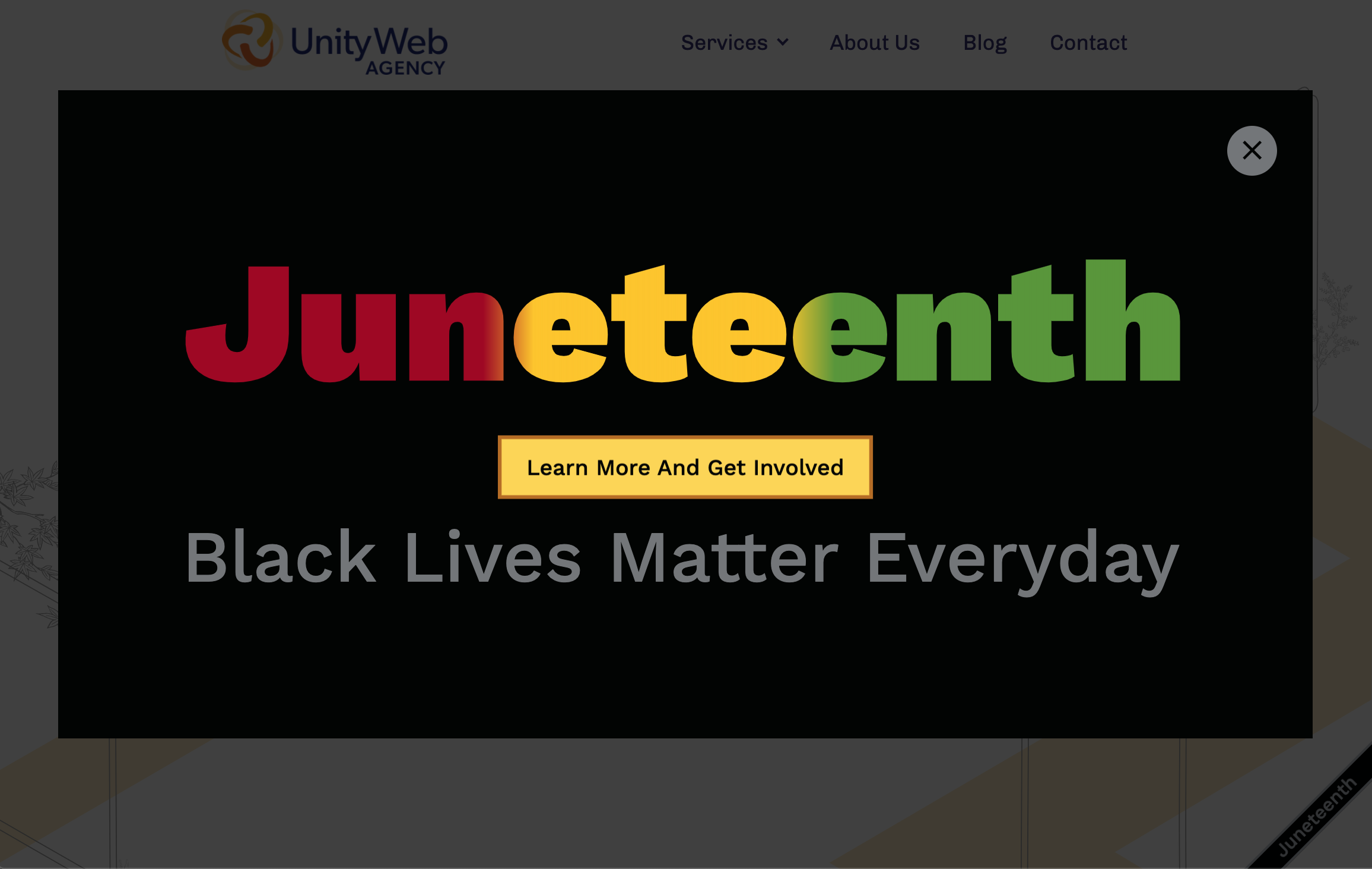 Black Lives Matter & Juneteenth
In honor of Juneteenth, we created a simple little WordPress plugin that automatically displays a modal popup on June 19th. The popup is dismissible so visitors can continue right to your website, and it also adds a little banner in the bottom right corner so people can re-open it if needed.
And of course, it's fully accessible so people who use screen readers, keyboards, or other assistive technology can navigate it!
The Juneteenth Banner plugin was our first ever submission to the WordPress Plugin repository.
donation to NCSU B Corp Clinic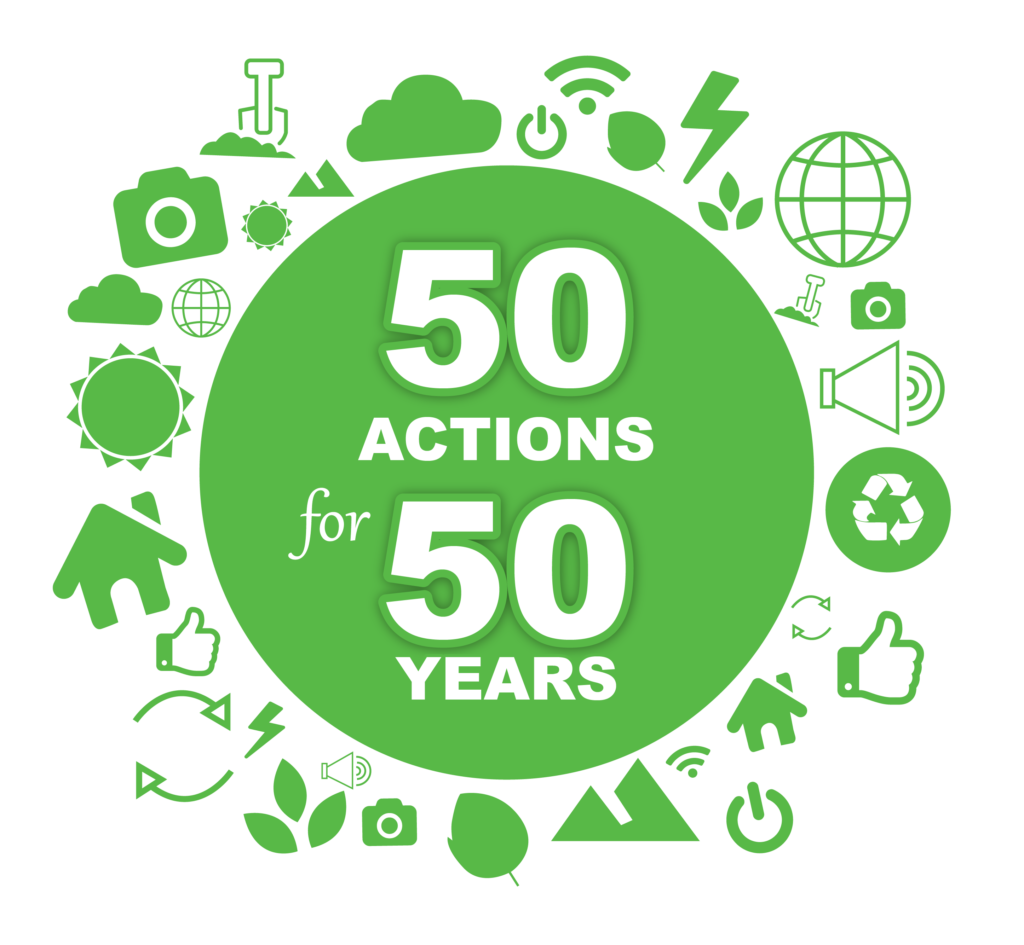 EarthShare Challenge
For the third year in a row, the Unity Web team participated in EarthShareNC's Corporate Earth Day Challenge. In celebration of the 50th anniversary of Earth Day, we joined the Frontier RTP team in the 50 Actions for 50 Years Challenge.
Company teams from across the state took sustainable actions such as carpooling, recycling, and taking shorter showers and logging them in the 50 Actions challenge app. We're proud to share that Frontier RTP was the winning team, each of the Unity Web team members placed in the top 10 of the team leaderboard, and Angela was the individual winner of the entire challenge!
With each action over the 20 days leading up to Earth Day, we contributed to Frontier RTP's collective impact of:
Greener Website Hosting
In February of this year, our developers migrated all 25 of the websites we host and maintain to a new server with GreenGeeks. Initiated because of a terrible outage on our former server, we made the best of the situation and worked through the weekend to make sure each and every one of our customers' websites were back up and performing even better than before.
GreenGeeks is an EPA Green Power Partner and their hosting platform is designed to be as energy efficient as possible. In addition to this, for every aperage they pull from the grid, they match 3 times that in the form of renewable energy credits. We're proud to be contributing to a "carbon-reducing" internet with any website we host.
Pay Equality
Over the summer, we implemented an equal pay policy to eliminate the historical pay inequities in the tech industry due to role, gender, race, ethnicity, age, and sexual orientation. Regardless of role, all permanent team members are paid the same salary (or hourly equivalent). As a team, we work to increase the pay for all by meeting company goals and objectives.
Additionally, we extended the healthcare reimbursement benefit (QSEHRA) to permanent part-time team members. Upcoming plans for benefits include offering paid-time-off (PTO) to permanent part-time team members and providing disability insurance.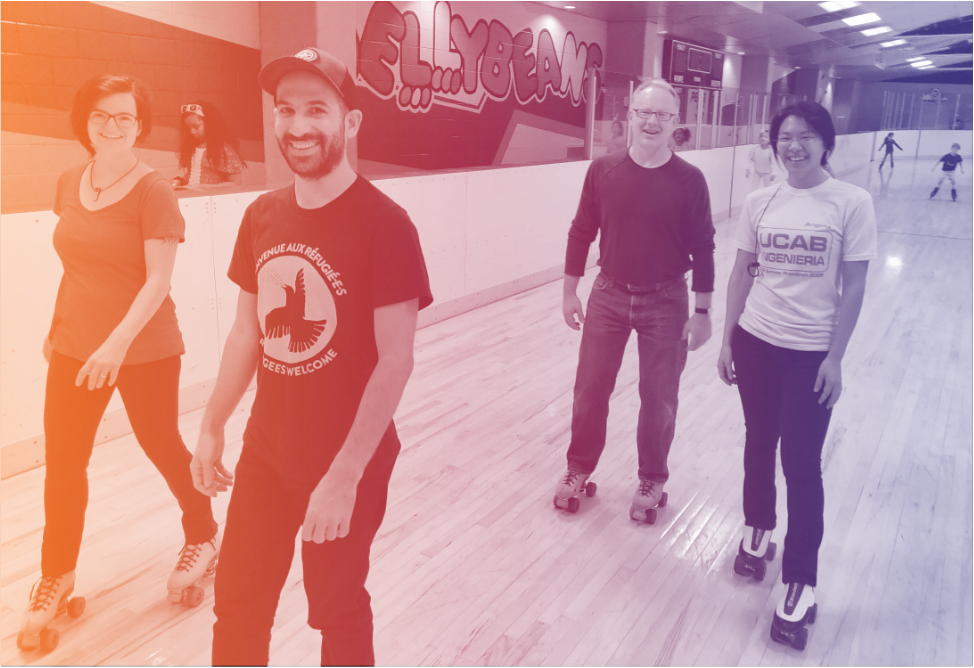 changes
We welcomed new team members Andy Marino and Lauren Rodgers-Voorhees. Andy is our mastermind developer who is equally passionate about web accessibility as he is about good code (one may even say they're the same thing). Lauren is the founder and owner of Vorola Services and acts as our project associate, making sure communications between our creative team and clients are smooth and timely.
We said bittersweet goodbyes to a few team members as they moved on to opportunities that better matched their career goals. Johnny moved on to devote his energy into growing his own startup Black Dollar, the only online directory of Black-owned or operated businesses in North Carolina. Lexi went back to teaching UX (user experience) design. April secured a dream role as implementation project manager at a company within walking distance of her home.
EOS
In early 2019, we began working with Maria Kingery to implement the Entrepreneurial Operating System (EOS) at Unity. Not only is Maria a brilliant fellow female founder of a B Corp, she is flat out FUN. Our very first meeting felt like that scene in The Wizard of Oz when Dorothy opens the door from her sepia farmhouse and the world is in Technicolor.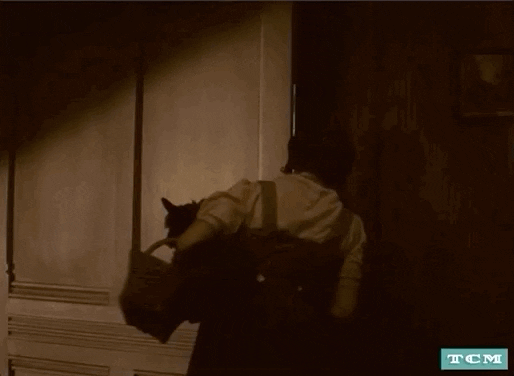 The past year was what I lovingly call our "kindergarten" year of EOS. We learned the tools, have been practicing using them every day, and our efforts have certainly paid off. I can say for sure that without EOS and Maria, Unity would not have survived and I would not be writing this blog post.
EOS has given us a framework to understand how we work and a toolkit to strengthen the business. We have improved our whole team's time management, which allowed us to become more accurate in project planning.
As an exciting capstone to the year, our operations manager, Angela Liu, spearheaded the team's transition to a new project management platform. It will allow us to continue to monitor our efficiencies and make modifications to hone our processes.
NCSU B Corp Clinic
This spring, Unity Web Agency participated in the NCSU B Corp Clinic. We were paired with 4 fantastic students Mirah Alix (UNC-CH), Alexandra Bennett (Duke), Cailin Peterson (NCSU), and Samantha Williams (NCSU), along with coach Nikki Hensley (NCSU). Our B Corp certification renewal date is on the horizon, so our goal was to increase our B Impact score.
The student team worked alongside our operations team to assess and improve our policies and impact. In only 2.5 months, our team was able to increase our score from 83.4 to 99.1! They supplied us with resources for continuous improvement, impact tracking, and satisfaction surveys. They also helped us to formalize our policies and encouraged us to implement Open Book Management.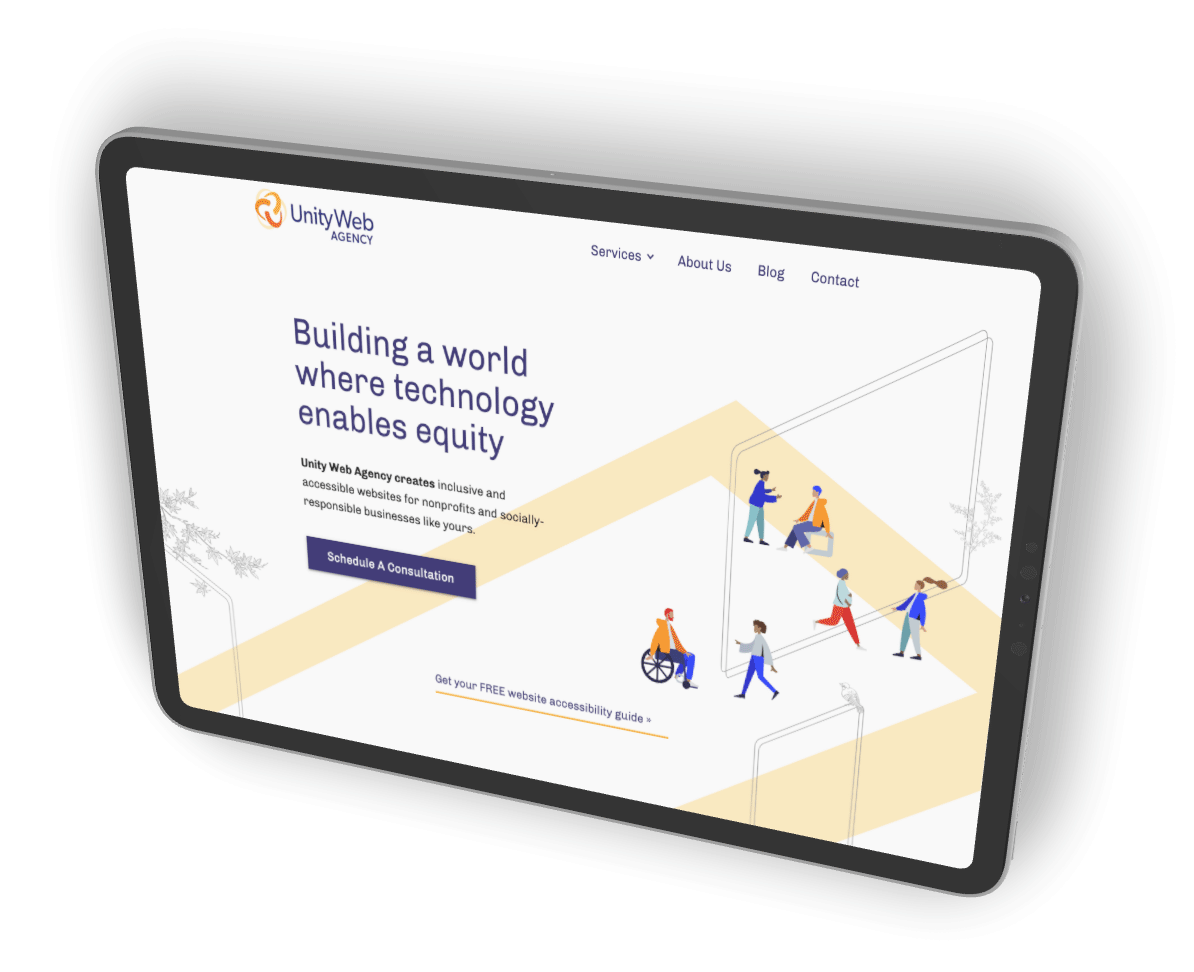 Rebranding
Since incorporating EOS into our business practices, we have done a lot of introspection to learn more about our strengths as a business and where we want to go.
When I founded Unity Digital Agency in 2016, web accessibility was just a part of what we did. But as any bootstrapped startup would say, you have to do what you have to do to make money. We hadn't built up enough of a portfolio to specialize. So we took on branding, print design, custom email template creation, and website design projects. But gaining clarity through EOS helped us see that it was time to pivot and specialize in our clear strength: accessible website design and development.
So we dropped "digital" from our name and added the more specific "web." It was a minor name change, but it means so much!
Visually, we tightened up our logo mark, added some details to indicate motion and synergy, adjusted our colors to provide more contrast, and changed our typeface to be more readable.


This rebranding has allowed us to forge new business partnerships with well-established marketing agencies and consultancies like Colibri Digital Marketing and Method Savvy. We get to do what we do best to help make the internet more inclusive and accessible, while our clients get more holistic digital marketing support from the experts. Win-win!
On April 1, 2020, we launched our new brand by unveiling our new website that actually reflects who we are. It's about time for the cobbler's kid to get new shoes!
It's clear that we've come a long way and we're excited to see where what kinds of impacts we make next year and beyond!
As the founder of this company, I am so proud and thankful to our team for all of the hard work they put in to making Unity the best accessible website design agency ever.