Boutique portrait studio hired Unity to help them stand out in a crowded marketplace
In a world where nearly everyone carries a camera and digital photo album (cleverly disguised as a smartphone), it's easy to forget that there was a time — not so long ago — when photos needed to be printed to be enjoyed. My Friend Teresa Studios founder Teresa Porter reminds us "you shouldn't need a battery to view your photos."
My Friend Teresa Studios is not your average photography business and that's largely because Teresa Porter is not your average photographer. She's a portrait artist, a mentor for photographers, and a genuine people person. Specializing in portraits of individuals and families, Teresa is a master at capturing her subjects' personalities with her camera.
Because Teresa believes so strongly in the power of using photographs to document milestones and special occasions, she makes sure each portrait session is a unique experience in itself. To achieve this, My Friend Teresa Studios works closely with clients every step of the way from helping choose what to wear and which "secret" photo shoot location captures your vibe to installing the final printed portrait on the wall in your home. It's not hard to see why so many parents call Teresa to request "the senior portrait experience" for their graduating seniors. Teresa and her staff (which includes her glittered-Honda-Accord-driving husband, Justin) are way more than a fun group of talented artists. They're your inner circle, just waiting to take care of you and show the world how awesome you are.
My Friend Teresa Studios is exactly the type of quirky, high-energy, community-oriented company Unity loves to work with. After seeing each other at a TEDx event where they were both speaking, Teresa and Alisa started talking about working together. Alisa was excited to enhance My Friend Teresa Studios' online presence and leverage it to show the world how awesome Teresa and her team really are.
The Situation
Alisa and her team wasted no time making My Friend Teresa Studios more visible online. First, they worked with Teresa to improve her search engine optimization (SEO) for 6-8 months. Unity did an SEO audit and sent reports each month. The team also served as SEO consultants making recommendations about keyword updates to the website, where the business should be listed online, and what types of content My Friend Teresa Studios should be posting on the website's blog and social media.
Unity's thorough SEO process uncovered other weaknesses of the website too. Because the site hadn't been updated in a few years, there were technical issues for which search engines were penalizing My Friend Teresa Studios. But more importantly, Alisa gave Teresa one of her biggest "ah-ha" moments about her business when she pointed out that the website didn't really show what made Teresa standout from other photographers.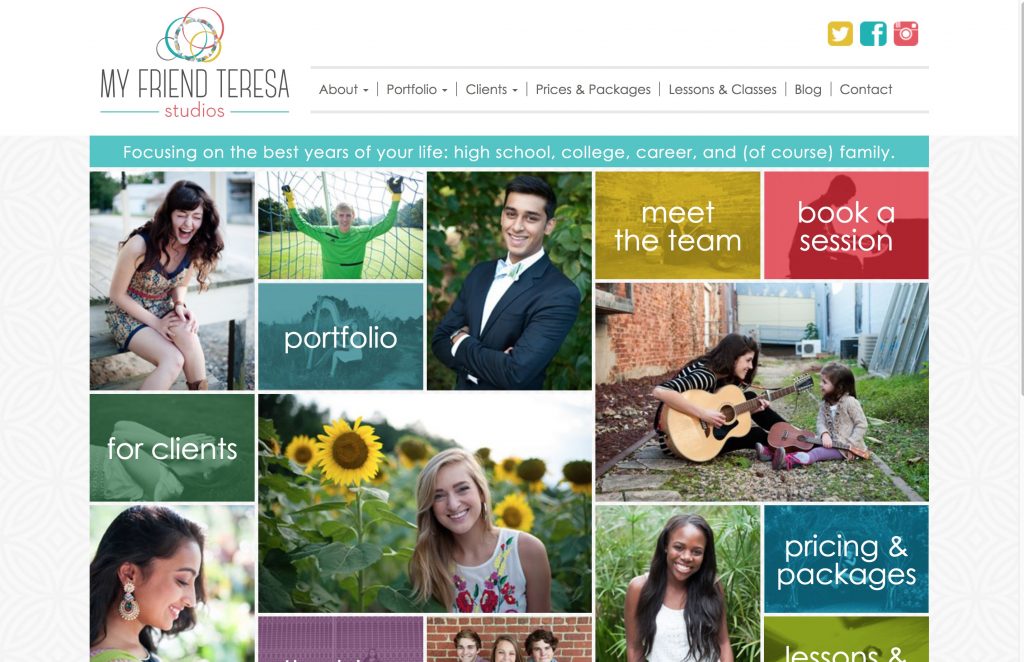 During the same time, Teresa had decided My Friend Teresa Studios needed to open its first physical portrait studio. As she lovingly chose the perfect glass-top furniture and comfy, colorful decor to create the ideal relaxed atmosphere for her in-person clients, it dawned on her — she wanted to be as pumped about her online presence as she was about the physical space she was creating. So Teresa decided it was time to invest in a complete website and branding upgrade to bring the online experience up to the caliber of the in-person experience.
The Opportunity
My Friend Teresa Studios was an experience-based photography studio saying nothing about the client experience on their website. When Unity's team identified this opportunity, they really hit the nail on the head. Alisa also pointed out that while Teresa's manner of speech is very warm, personable, and familiar, the website content was corporate and buttoned-up. While Teresa agreed that the website didn't align with how she wanted her brand to feel, she hesitated to make such bold changes to the website copy at first. But in the end, she says, Alisa won her over. "I'm not sure I would have felt free to be this person on my site without Alisa's encouragement," says Teresa.
Together, Teresa and Unity's team worked to create content, as well as the right structure and design to expertly tell My Friend Teresa Studios's story. Teresa believes — and has seen — that printed photo portraits displayed as wall art in the home provides a real source of joy every day. To this point, one of the biggest design changes suggested by Unity was to include images of portraits displayed on the wall. Visually, this immediately set the website apart from other photography websites and illustrated the My Friend Teresa Studios difference. Teresa says, "the site created by Unity allows people to see who we are."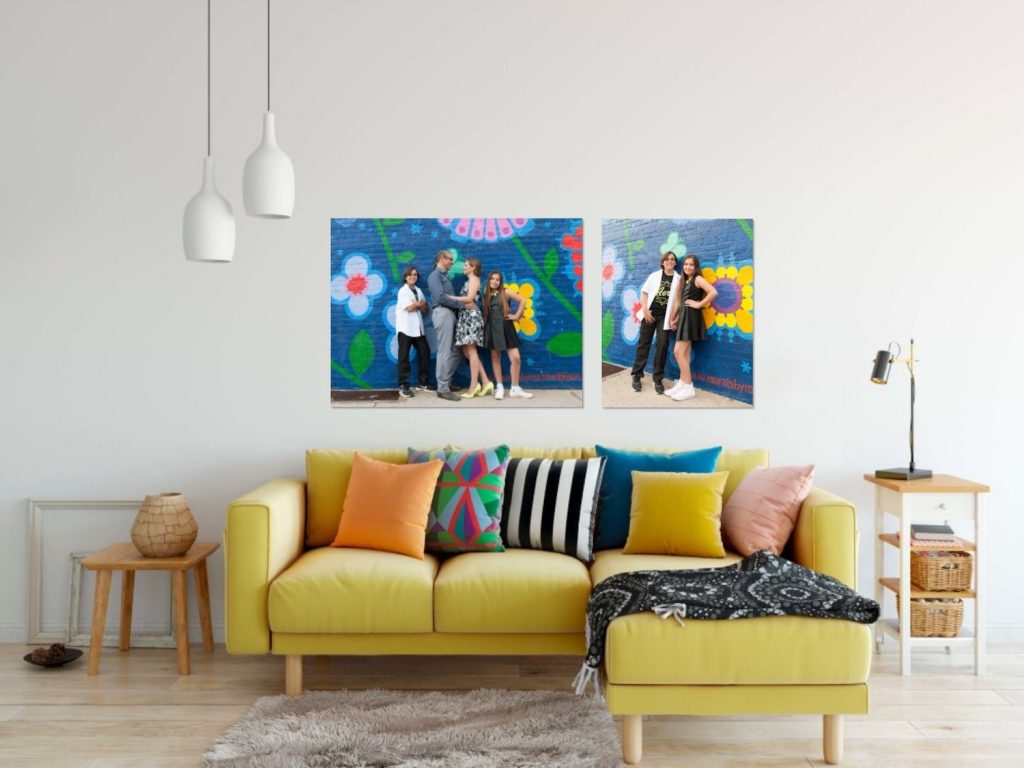 The Results
In talking to Teresa, her excitement is palpable: "the new website has given me a confidence about my business that I didn't have before!" And the response from clients and prospective clients has been nothing short of amazing.
Since launching the new website, My Friend Teresa Studios has seen a huge bump in organic search traffic. Among the direct revenue increase she attributes to the SEO strategy and the new website design, Teresa is excited to share that she received a request for mentoring services from a photographer in San Francisco. The photographer was googling for ideas to work on her own website content when she came across My Friend Teresa Studios. Not only did this potential mentee understand who Teresa was from exploring the website, but the content sold her on the idea of mentoring with Teresa. This is just one example of immediate direct revenue gained as a result of having a website that effectively showcases Teresa's secret sauce.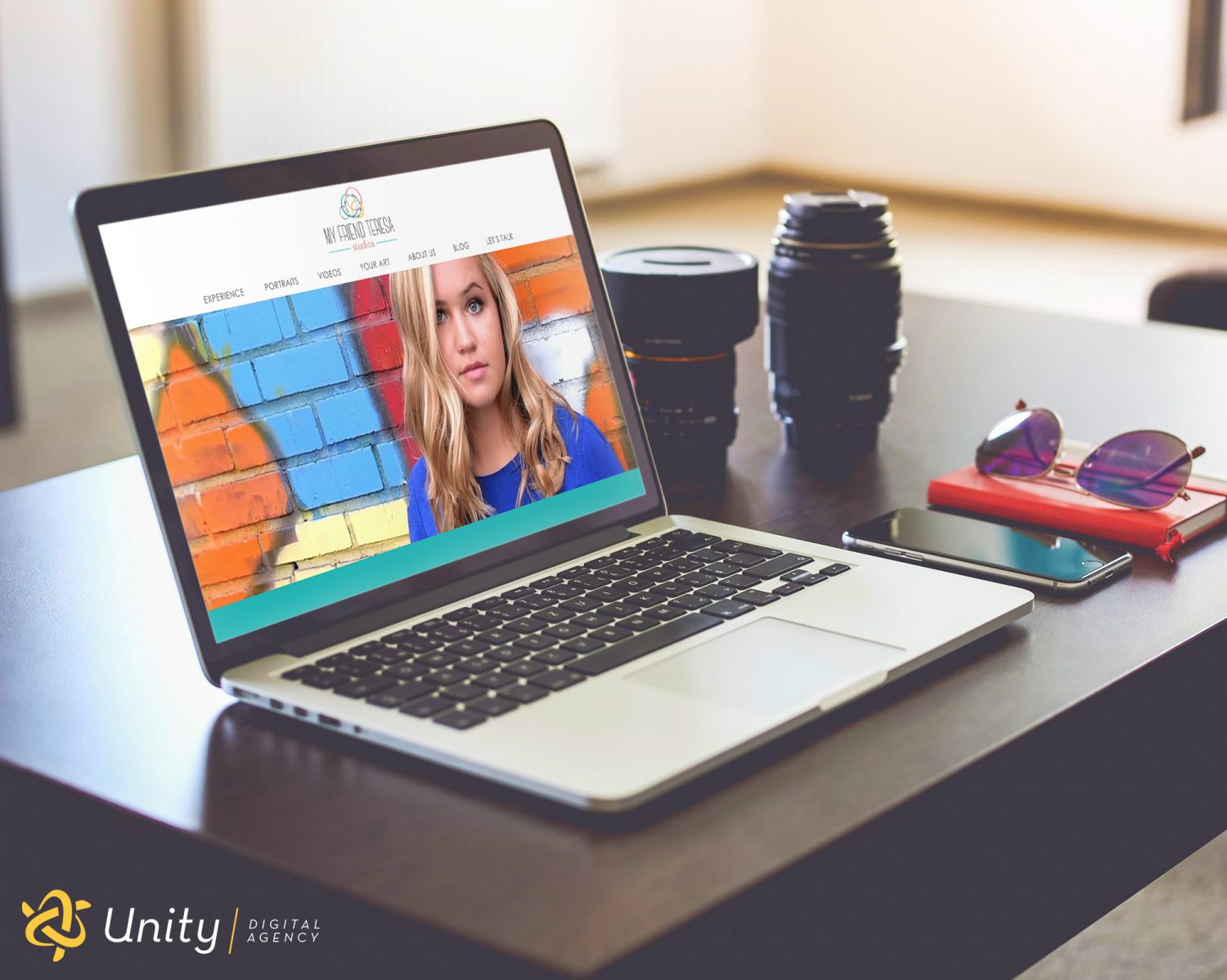 Beyond the increased traffic, enthusiasm, and engagement, Teresa's experience working with Unity's team was exceptional. It's not every day that business owners have the chance to meet face-to-face with a team of service-minded web specialists. "It's so refreshing to work with a team of highly specialized web experts operating on the same level of service I offer my customers," Teresa says, "I had high expectations going into the project and they went beyond my expectations."
Teresa was especially impressed with the responsiveness of Alisa's team as well as their insights: "Each member of Unity's team was as insightful about his or her role in the project as I am about my business. That really blew my mind."
The challenge of using a digital platform to express non-digital value, like why seniors should choose a portrait experience instead of a basic senior photo session, is exactly the sort of challenge Unity Digital agency loves. If you have a similar challenge with your business, schedule your consultation with Unity today and let Alisa's team show the world how awesome you are.