Read time: 5 minutes
---
Our recent blog post touted North Carolina — and especially the Triangle region — as a strong community of businesses supportive and committed to inclusion and diversity.
At Unity Web Agency, we are always looking for ways to elevate and contribute to this community that has embraced our startup. Whenever we become aware of businesses that share these values, we do what we can to spread the word.
Today, we want to highlight Kramden Institute.
In the simplest terms, Kramden provides technology tools and training to help bridge the digital divide. However, their innovative business model that allows a comprehensive approach to three big areas of tech inequality is nothing short of incredible.
Let's look more closely at what makes Kramden so special.
Giving New Life to Electronic Garbage
We all love our computers, tablets, and smartphones — until they stop working. Then these devices become little more than electronic garbage taking up space in our homes and businesses. These gadgets aren't made to last and manufacturers certainly don't mind that we upgrade every couple of years. In fact, they expect it. As a result, this junk ends up collecting dust in the back of your closet, basement, or garage simply because you don't know what to do with it.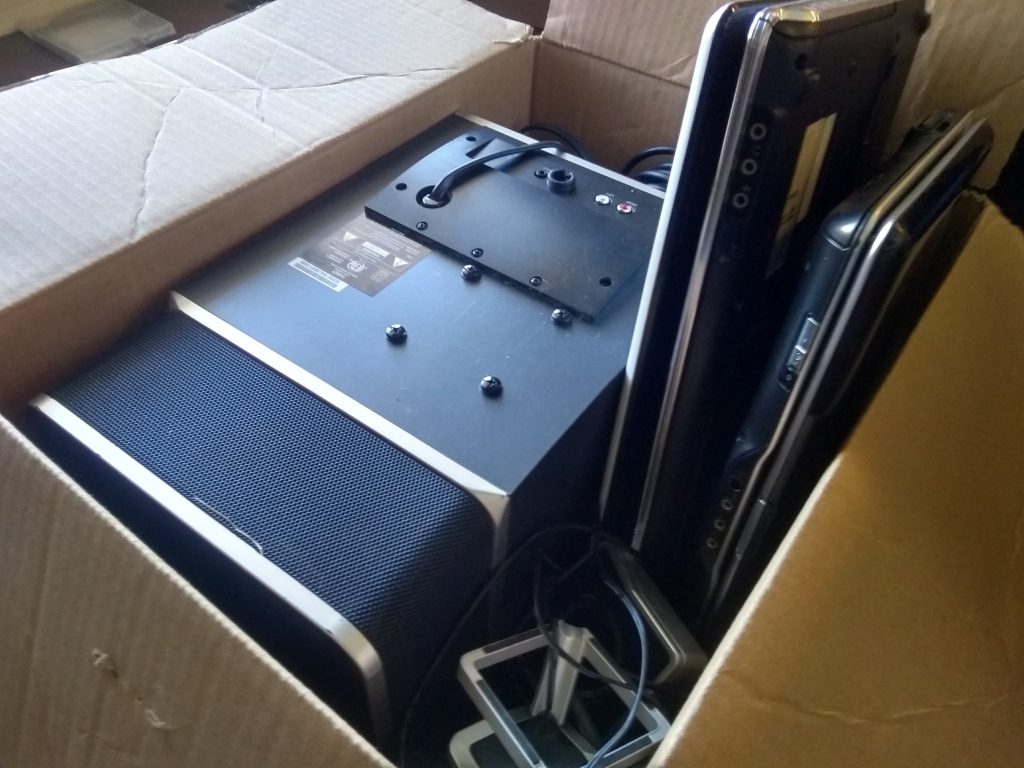 Donating or recycling is a good idea. But the best thing to do is drop them off at Kramden (or at a CenturyLink retail store, if you're outside of the Triangle) where volunteers will give them new life.
Basically, here's how the process works:
Individuals and businesses drop off computers that are no longer of use.
Kramden staff and volunteers wipe any data, fix, and refurbish the donated machines.
The refurbished computers go to Kramden's Tech Scholars (students in grades 3-12 who don't have access to a home computer), adults who find themselves on the wrong side of the digital divide, or qualifying local non-profits.
What a concept! Kramden was the brainchild Mark and Ned Dibner (father and son) in June 2003. The name Kramden is actually Mark and Ned spelled backward. Ned, then 13, suggested to his father that they refurbish older computers to donate to middle school students in Durham, NC who could not afford home computers. Since then, Kramden has partnered with numerous schools, non-profits, and military aid organizations across the state to award computers to those in need.
An Innovative Idea with Big Impact
There's no doubt Kramden is unique. For one thing, they rely almost exclusively on the energy of volunteers and the support of local corporations whose staff volunteer and donate hardware.
Also, whereas most resources similarly aimed at bridging the digital divide focus on one of three areas: access to hardware, access to the Internet, and access to computer education or training, Kramden impacts all three of these areas.
In addition to providing hardware to populations who have been left behind, Kramden's educational arm offers adult computer and digital literacy classes (e.g., computer basics, Microsoft Excel tips and tricks, how to keep your data secure, etc.), as well as STEM and STEAM camps for elementary through high school students.
Speaking of education, Director of Development, Eric Vreeland, says Kramden staff are especially jazzed to offer a summer camp for elementary students, a first this year, called Comics Creators. You can find all the information about upcoming camps for kids of all ages on Kramden's website.
Kramden's impact can't really be captured by looking at numbers alone. Still, there's no doubt that these numbers speak volumes:
Computers awarded to date: 31,000+
Computers awarded in 2017: 3,568
Volunteers in 2017: 1,445
Volunteer hours in 2017: 17,800
Education participants in 2017: 1,591
Education participants to date: 3,153
Lbs. of e-waste recycled in 2017: 680,654
Want to learn more about how you get involved?
Besides donating your unwanted desktops, laptops, computer accessories, tablets, and cellphones, there are other ways you and your company can get involved.
1. Donate.
Kramden is always on the lookout for more computer equipment. They're happy to take even your oldest, most beat-up computer. For more information about what type of hardware they accept, policies regarding erasing your data, and how to donate, check out Kramden's donate page.
2. Volunteer.
Kramden is always looking for more volunteers. Anyone age 12 and up can volunteer weeknights, weekends, or weekdays. For corporations, Kramden offers single afternoons through multi-day sessions for up to 250 employees. You can have your staff report directly to Kramden headquarters or their staff can recreate their warehouse onsite.
3. Nominate Someone in Need.
Kramden's staff are thrilled about a recent surge in the number of good-quality laptops being donated. This increase means they can now offer laptops for all high schoolers (in the past, they limited the program to high school seniors). They've been pushing to meet this goal for a number of years now.
Students are usually nominated by a teacher, counselor, or social worker to receive a computer. Find the nomination form and step-by-step instructions for nominating someone on the Tech Scholars program page. If you are a client of any of the listed local non-profits partnering with Kramden, you are eligible to receive a computer. The nomination process for adults in need is spelled out on the Tech Community Partners page.
If you represent a non-profit that would like to become a tech community partner, contact Cari DelMariani at 919-293-1133 or at cdelmariani@kramden.org. Or if you represent a non-profit that would like to purchase equipment for internal use, contact Jason Ricker at 919-293-1133 or at jricker@kramden.org.
Kramden Institute is a great example of the type of innovative thinking that changes the world. Talking to the directors and staff of this uber-efficient operation, you can't help but feel inspired. They are super nerdy, super excited about their work, and super proud to tell the world.
Our hats are off to Kramden Institute!
Do you know of a North Carolina-based small business that we should feature on our blog?