We are often asked why our eco-friendly web hosting is free. The main reason is that we don't want it to be a burden for any of our clients to choose to "go green." We believe that by providing free eco-friendly web hosting to our clients, we can help save the world one website at a time.
The other reason is that we are not in the website hosting business, so we're not interested in making money on that service. We are in the web development business, so we sell strategic web development services designed to help our clients achieve their business goals while serving the community at large. And in order for our own business to serve the community, we strive for our business to have a minimal environmental impact and a larger positive social impact.
Unfortunately, the IT industry is fueling one of the world's biggest problems: pollution.
For now, the best way Unity has found to combat that is by supporting other businesses that are also committed to environmental sustainability.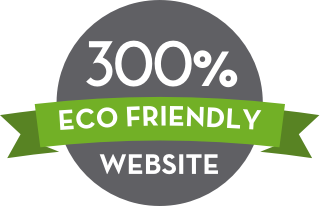 We have chosen to provide free website hosting to all of our clients who purchase one of our retainer packages. Our server is managed by GreenGeeks.com, an EPA Green Power Partner who uses energy-efficient hardware housed in data centers that are designed to be environmentally friendly. But the best part is that they work with environmental foundations to purchase renewable energy credits (RECs) to put back into the grid three times (3x!!!) the amount of energy they consume.
This means that all the websites we maintain are not only carbon-neutral, but they're also helping to reverse the carbon footprint of the whole website industry
But like I said, we're not in the website hosting industry. Our top priority is to make sure our clients' websites are working to help drive their businesses to success. We do not want our clients to feel burdened by their websites in any way. So we provide the option of free eco-friendly website hosting for our clients as a small gift of thanks.
Is this free green web hosting any good?
Yes, it is great! We would not be hosting our own website with the GreenGeeks.com servers if we were unhappy with the quality. GreenGeeks.com is consistently rated at the top of the charts for best web servers. And here's why. In addition to being a "carbon-reducing" website host, their platform is also top of the line and continually improving with:
The Best Hardware: SSD RAID-10 storage arrays
The Fastest Load Times: Powercaching, PHP7, and HTTP/2
Tier-1 Bandwidth: 1Gb/second connectivity
Enhanced Security: Secure virtual file system and firewall
Always On: 99.9% uptime guarantee
What else do our clients enjoy, besides knowing their website is helping to save the planet?
At Unity, we work hard to ensure our clients' websites meet the highest security standards so the integrity of their websites and data is never compromised. The following high-level security services are included for all retainer clients:
Monthly Analytics Reports
Unity is Google Analytics IQ Certified, and we know exactly how to dive deep into the data to find the numbers that actually matter. Every month, you'll receive personalized website and digital marketing insights in plain English. You'll know what content is working and what needs improvement to maximize the return on this very important investment. Reports like these are invaluable for understanding what is helping you get more customers and what needs adjusting.
Software Updates
Keeping your website's software up to date is essential in maintaining a safe and sound website. Performing software updates on a regular basis will make your website less vulnerable to hackers who look for instability in code.
Database Optimization
As your website ages, outdated items inevitably clutter your database. This results in the loading time of your website slowing to a crawl. We'll perform a full sweep of your database each month to ensure there are no cobwebs, dust bunnies, or monsters hiding anywhere on your website.
Security Scans
Real-time security scans let us know if there are any security vulnerabilities on your server or within your website. If a scan identifies a problem, we'll do everything we can to fix the problem completely and quickly.
24/7 Uptime Monitoring
Our monitoring system will text us if your website ever goes down. We'll drop everything to help get it back up.
Nightly Offsite Backups
Rest assured you'll never lose a thing with our nightly offsite backups. Why offsite? Because this is the one time that redundancy really, really matters! (We'll say it again another way: You don't want to lose your backups if something catastrophic happens to your website.)
Cloudflare CDN & Security
Our preferred partner for cloud security solutions is Cloudflare. We configure the free tier for all our clients, which includes:
SSL security certificate with 25-bit encryption
Global content delivery network (CDN)
DDoS protection
Let's Work Together
We help our premium clients with all of the important maintenance and support involved in keeping their website as fresh as the day it launched.
Are you interested in finding out more about how Unity can help you elevate your business through your website?
---
P.S. This blog post contains affiliate links, which means we are paid a commission for any purchases made using our unique link. If you decide to purchase hosting through GreenGeeks.com instead of using our free service, we'd very much appreciate it if you ordered through this link: https://www.greengeeks.com/track/unitydigital/cp-why