The systems that nonprofit and micro-businesses use to define, document and measure processes are similar because their access to resources is similar. I like to call these systems "Low Resource Systems" (LRS).
(This is appealing on two levels. First, those are the maiden initials of my name and second because the first appeal makes it easy for me to remember. What good is ingenious insight if you cannot recall it when the perfect opportunity arises to spit it out and raise eyebrows… and raise hope?)
The very idea of a Low Resource System means that a problem must be solved in an efficient manner.
Not so long ago, you could ask for ketchup at the McDonalds drive-thru and get a fist full; whether or not you really wanted that much. The extras ended up in cars, offices, and kitchens until the packaging color fades and crinkles to the point that the highly preserved contents may be perfectly edible, but not worth getting past the yuck factor to eat it. Lately, ask for ketchup and you are asked: "How many?"
Suddenly, pause.
Wait? How much ketchup DO I need?
You: "Three please!"
Them: …handing you 'enough' ketchup, "Thank you, have a nice day!"
Financial turn-around guru Myron Golden has a definition of money management that was a great resource to fashion this approach to resource management: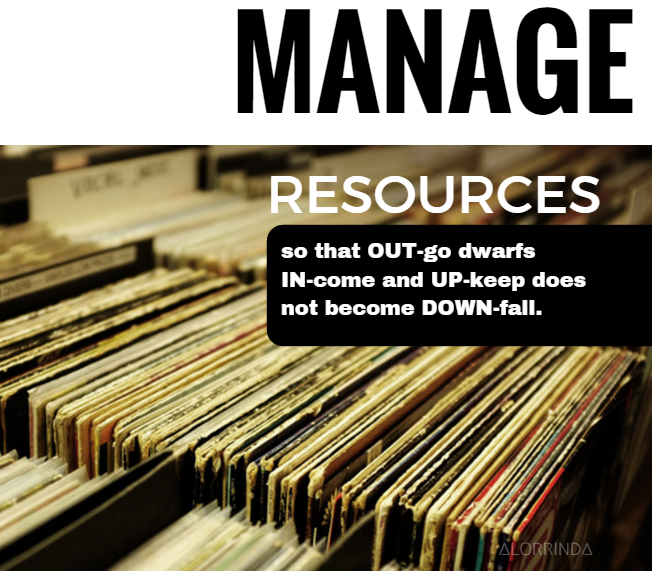 "Manage resources so that OUT-go dwarfs IN-come so UP-keep does not become DOWN-fall." ~alorrinda
McDonald's may not be a low resource business, but even they know that throwing too much ketchup at every customer that came through the drive-thru is a waste of resources.
After all, money is just one important resource for starting, strategizing, stabilizing, sustaining, scaling, and skyrocketing a venture. Ketchup is another.
It's sad to hear talk about nonprofit and micro-business as if they are "less fortunate" organizations that would rather be "Fortune 500" companies. Nothing can be further from the truth.
The primary function of a "non-profit" is not to increase the amount of money the owners draw from that business, but to increase the value that is deposited into people and communities.
The same goes for us at Unity, as well as many other socially-aware businesses. We're on a mission to lift up our community and those around us.
The mind shift is where the rewards are directed, not whether rewards exist. Maybe the distinction should be "For Profit" vs "For People." The collective impact we can have on the experience of the human condition and the quality of life itself. Neither is wrong, just different; like each of us.
It changes the game for all types of organizations to think of money alongside other valuable resources like talent, skill, influence, ingenuity, energy, access, connections, favor, insight, innovation, information, and creativity.
Just trust the idea that what you have is far more important than what you don't. After all, you have unfettered access to what you already have.
Putting forth the effort (another valuable resource) to make what is readily available do more to make business thrive is an approach worth pondering.
Technology is an attractive wheelhouse for maximizing the value of the time to perform essential, internal business processes. Rich opportunities for nonprofits, micro-businesses, and startups are out there.
Systematically gleaning solutions from a variety of industries, contexts, and disciplines helps budding enterprises stay around long enough to bloom into a value the world can't live without.